Viva is powered by Vocal creators. You support
Leona Freebush
by reading, sharing and tipping stories...
more
Viva is powered by Vocal.
Vocal is a platform that provides storytelling tools and engaged communities for writers, musicians, filmmakers, podcasters, and other creators to get discovered and fund their creativity.
How does Vocal work?
Creators share their stories on Vocal's communities. In return, creators earn money when they are tipped and when their stories are read.
How do I join Vocal?
Vocal welcomes creators of all shapes and sizes. Join for free and start creating.
To learn more about Vocal, visit our resources.
Show less
The Heroic Horseback Librarians of The Great Depression
The Story of 'The Book Ladies'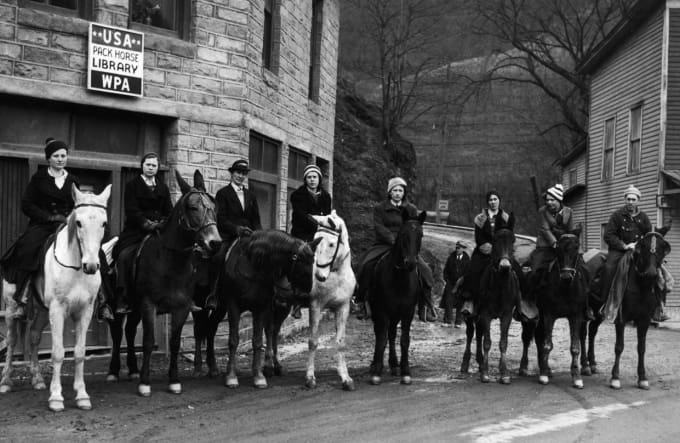 The Great Depression came swiftly and severely, plunging America into poverty. Stock prices started slipping in September 1929. Within a month the market crashed and worldwide GDP fell by 15 percent. 15 million Americans were put out of work and the state of Kentucky, which was a poor state that had been made even poorer by the paralysed national economy, was one of the hardest hit. Food, education, and economic opportunity were scarce. 
In 1930, up to 31 percent of the people in eastern Kentucky couldn't read and lacked access to books and literature. In 1935, Kentucky only circulated one book per capita compared to the American Library Association standard of five to ten.
President Roosevelt believed that higher literacy rates would help to increase the employability of more people as the coal and the railroads were poised to industrialise eastern Kentucky and there was hopes that this movement would bring work and prosperity to the area. There had been attempts previously to get books into the remote regions but most were unsuccessful and didn't last very long. So they needed to think outside the box for America's most remote communities.

Therefore, President Roosevelt formed the Pack Horse Library initiative. He hired librarians to bring books to the isolated mountain towns of Kentucky. Known as the "book women," most of these librarians were women and were housed in any local facility that would help, from churches to post offices. They would travel roughly around 120 miles a week, each on horseback and sometimes on foot, through the treacherous mountain ranges to the remote towns, across rough terrain and often through unforgiving weather.
The job was taken very seriously and they were paid roughly $28 a month, which is the equivalent of $495 in modern dollars. The books and magazines mostly came from outside donations. There were requests all around the regions for everything from books, magazines, Sunday school materials, textbooks, and more. Once the literature was in the librarians' possession, they did everything they could to preserve them and make them last, often repairing them.
However, people were suspicious of these strangers bringing unknown books and literature to their towns, but the librarians gained the trust of the local people by reading Bible verses aloud to them. The children loved the program as many of the schools in the area did not have libraries and most students had never been able to take a book home. 
Illustrated books were the most popular as the illiterate adults relied on their literate children to teach them and interpret them and the pictures were a great help. One of the most popular books in the program was Robinson Crusoe.
In 1936, The Pack Horse Librarians served around 50,000 families. News of the program spread across the country and donated reading materials started coming in from every state. Despite the ongoing shortage of materials, the Pack Horse Library Project was considered very successful, and one of the most unusual library services ever offered in the country. During its height, the program boasted 30 libraries serving close to 100,000 Eastern Kentucky residents. Interest in ideas outside the realm of Appalachia, an appreciation for education, and an introduction to global cultures were fostered by the program in an area where one-room schoolhouses and churches were the only means of learning about the world.
By 1943, America's war time economy was booming and over 17 million new jobs were created. The government programs that had put people back to work were slowly being phased out, including the Pack Horse Library initiative. 
These female horse-riding librarians may only be a footnote in American history but they bought a wealth of opportunity to the smallest corners of Appalachia.
For the women who shared stories to a generation of young readers, I am proud to share theirs.