Viva is powered by Vocal creators. You support
Madison Elliott
by reading, sharing and tipping stories...
more
Viva is powered by Vocal.
Vocal is a platform that provides storytelling tools and engaged communities for writers, musicians, filmmakers, podcasters, and other creators to get discovered and fund their creativity.
How does Vocal work?
Creators share their stories on Vocal's communities. In return, creators earn money when they are tipped and when their stories are read.
How do I join Vocal?
Vocal welcomes creators of all shapes and sizes. Join for free and start creating.
To learn more about Vocal, visit our resources.
Show less
Quite the Scandal
My Boudoir Photoshoot Experience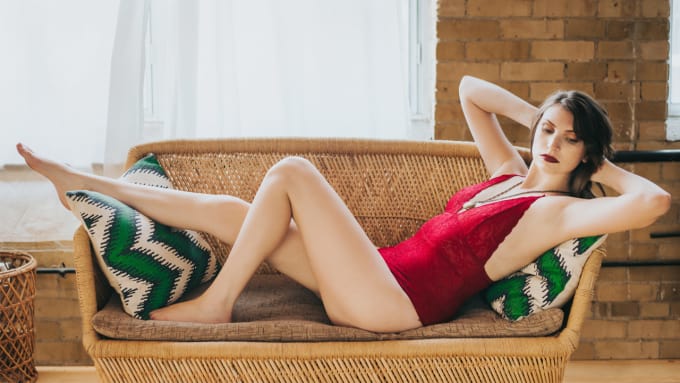 I've embraced 2018 as my year of trying new things. After years of anxiety holding me back from doing things I otherwise would have done, I'm finally comfortable enough to start living the life I want to live.
This year I smoked weed and tried mushrooms for the first time, I tried Reiki, I went to Cuba, I landed my dream job, and I started writing again.
But there was one thing I always wanted to do that I truly never thought I'd have the guts to do...
I wanted to get boudoir photos done.
Maybe for some of you, it doesn't seem like a big deal. But for me, the thought of spending an hour and a half with complete strangers taking pictures of me nearly nude was more than a little nerve-racking. I'd modeled a little when I was a teenager, but I was always fully dressed. This was new territory for me.
I toyed with the idea for a long time, and as my 25th birthday approached, I started doing some research into photographers.
I stumbled upon Scandaleuse Photography, two women from France, now based in Toronto, Ontario who were absolutely killing it in the boudoir scene. Their photos were gorgeous, and their message was even more beautiful—love yourself. These women didn't want you to take these photos to please your man, they wanted you to do it completely for yourself. And by the way, they weren't going to Photoshop you either. You had to go in being unapologetically you.
Yes, these were going to be my photographers.
After meeting with Fanny and Juliette, I was instantly put at ease. Any nerves I had going into the shoot were melted away by these two bad-ass women. We scheduled a date, said goodbye, and I waited impatiently.
I spent the following weeks looking up different boudoir shoots for inspiration and indulging in some lingerie for myself. When it was finally the day, I was ecstatic. 
I showed up to the shoot location with a small suitcase full of heels, jewelry, and my most scandalous attire. For the entire three hours I was there, I felt like a new person. My butt was shaking, my boobs were out, I was stretching and holding the most awkward of poses, and I was sweating profusely, but I'd never felt more beautiful or empowered.
I was owning my body in this unique way that not many women would have the courage to do. Any insecurity I'd ever felt went out the door and it was just me. I didn't feel like I had a weird stomach anymore, or that I was long and lanky. I forgot about my big feet, and my blemishes, and my hunchback. None of it existed in that room...it was a confidence I didn't know I had in me. 
I did this as a selfish gift to myself—some pretty pictures to celebrate turning 25. I got so much more out of them though...I've never felt better in my own skin.
After I received the photos and I started showing them off, I got a lot of similar comments...
"I'd never be able to do that."
"You took pictures TOPLESS!?"
"I'm surprised you're OK with them being on social media."
A year ago, I probably would have echoed these same sentiments—but today I feel differently. I want to be part of the movement to empower women to embrace their beauty, but I can't do that if I'm shy about my own.
Yes, I had pictures taken of myself in my underwear—and yes, they are out there for anyone to find, much to my parents' horror. But I'm not ashamed of my body anymore. Nothing about these pictures changes who I am, so before you go covering your eyes in horror, try seeing them for what they are. Pictures of a young, confident woman, who knows herself...and looks damn good doing it.
Photos by Scandaleuse Photography